Earbuds have become an indispensable part of our daily life, especially because Covid-19 has made working from home and learning from home the norm. If you're on a tight budget, it can be difficult to locate good earphones among the plethora of low-cost options. Not only do good earbuds under Rs 500 have good sound quality, but they also include extra functions like an inbuilt remote for playback controls and a microphone for hands-free calling. In India, finding earbuds under 500 rupees that offer a good blend of performance and features may be difficult.
You might also be tempted to buy wireless earphones for less than 500. Buying Bluetooth earphones for under 500, on the other hand, is not a good choice because the quality of these is poor.
The majority of wireless earbuds under 500 come from lesser-known manufacturers like invicto, MARVIK, ShopMagics, and others that aren't known for their build quality or performance. So, at this price point, we recommend going with wired choices because you can still acquire some great ones.
Let's have a look at the five best earphones under 500 rupees available in India: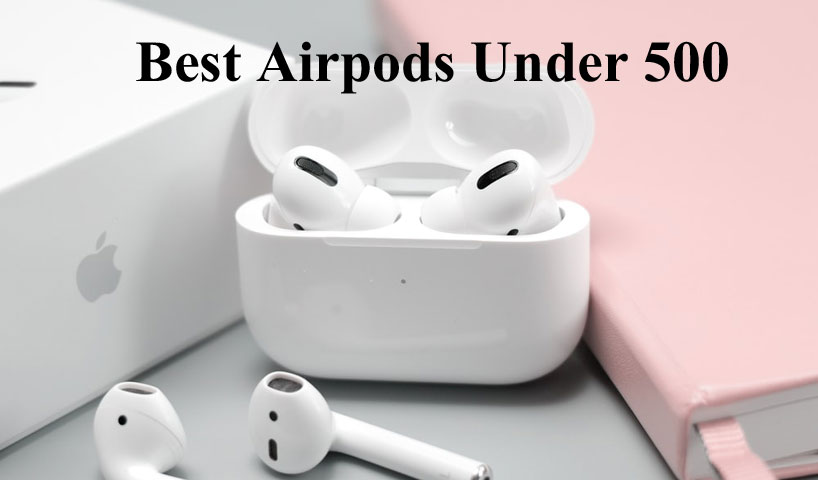 REALME BUDS 2
The Realme Buds 2 are wired in-ear headphones that are normally priced at Rs 599, although they may be bought on some e-commerce sites for less than Rs 500. The earbuds come in four different colours: black, blue, green, and orange. The Realme Buds 2 wired earphones are a good option around Rs 500, with a solid structure and a nice aesthetic. They are equipped with 11.2mm drivers that deliver a powerful and punchy bass response. For heavier lows, the driver has a multi-layer composite diaphragm. Users can control music, calls, and the voice assistant with the inbuilt remote on the headphones. They also include built-in magnets that keep the earphones together when not in use.
boAt Bass Heads 182
The boAtBassHeads 182 is the third pick on my list of the finest headphones under 500 rupees. Boult Audio is well-known for providing bass-oriented earbuds, as most Indian users love powerful bass in their headphones. If you're one among them, BassHeads 182 is an excellent place to start.
Xiaomi Redmi Hi-Resolution Audio
As an improved version of Xiaomi's Mi Basic 2018, these earbuds were newly released. The metal Redmi Earphones have anti-earwax earplugs, as well as a lightweight design and high-resolution music. To be honest, it isn't an upgraded model; the sound quality is practically identical; just the form and build have been changed to improve comfort.
JBL C50HI
Audiophiles recognize JBL for its high-quality earbuds and speakers. JBL earphones are also among my favorites, thanks to their natural tuning and well-balanced sound. These earphones will suit you if you're anything like me. However, if you need a lot of bass, you should go with another option.
The company didn't use any metal or texture finishes on it, which isn't a bad thing because it still looks good with this simple design. The finest feature is that the earbuds are pretty pleasant; I believe this is one of the most comfortable headphones available for less than 500 rupees.
The JBL C50HI offers a lot of value for the money when it comes to sound quality. An 8.6mm speaker driver is included in the earphones, which generates powerful and clear sound. The bass sound is well-balanced and deep, with no artificiality. It's also not overly loud, so the voices and treble aren't drowned out.